Mobile Security Token
SolidPass™ is available as a mobile security token. It provides better security than a hardware token by giving you control and choice over authentication requirements at a fraction of the true lifetime cost of ownership. More importantly, the mobile security token provides more than standard two-factor authentication with smart protection features such as challenge- response and transaction data signing. It really provides 2-factor, 2-channel, and 2-way (mutual) authentication. SolidPass works on a number of different mobile platforms, supporting both feature phones and smartphones.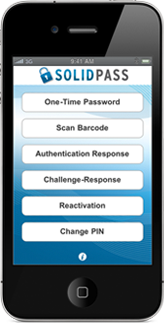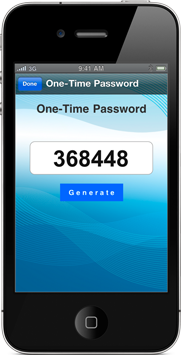 The Solidpass mobile security tokens include the following:
Android Mobile Token
Blackberry Mobile Token
Brew Mobile Token
iPhone Mobile Token
Java ME Mobile Token (J2ME Token)
Linux Mobile Token
Palm Mobile Token
Symbian Mobile Token
Windows Mobile Token
The mobile phone vendors supported include:
Apple
Asus
BenQSiemens
BlackBerry (RIM)
Dell
HP iPac Mobile
HTC
Huawei
i-mate
LG
Motorola
NEC
Nokia
Palm
Panasonic
Samsung
SonyEricsson
Vodafone
ZTE
Mobile Soft Token Convenience
The key advantage of the SolidPass mobile soft token is that there are no new devices or wallet-fillers for customers – just an add-on to the device they already carry everywhere. Since customers already own the "hardware" (the mobile phone), SolidPass™ can be provided and managed at a fraction of the true cost (TCO) of a hardware token solution. Soft security tokens have the added advantage of being able to be distributed immediately and without logistical planning. An added benefit from a reissuing and logistical perspective is that soft tokens do not expire. This helps reduce customer dissatisfaction. Users are also more likely to recognize the loss of their mobile phone before they recognize the loss of a hardware token. This means that they are also more likely to recover a misplaced mobile phone before finding a lost hardware token. As a result mobile phones have become a more reliable deployment method than hardware tokens.
Provisioning of Mobile Token
The application can be provisioned in a number of ways include OTA (Over-the-air), Bluetooth, Wap Push, download, SMS request from a short-code or a long number or from an SMS push from a web interface or a URL from a WAP or mobile Internet portal or from a relevant applications store.
Strong Two-Factor Authentication (2FA)
The following strong authentication methods are supported in the mobile token:
Event-Based One-Time Password (OTP)
Time-Based One-Time Password (OTP)
PIN control mandatory/optional
Security Question
Challenge Response
Transaction Data Signing (TDS)
Mutual Authentication
SolidPass mobile security token can be used to prevent the following :
Phishing Attacks
Pharming Attacks
Man-In-The-Middle Attacks
DNS Cache Poisoning Attacks
Trojans Attacks
Man-In-The-Phone Attacks
Browser Poisoning Attacks
Embedded Token
SolidPass™ can be embedded in any number of mobile apps such as mobile banking that would require strong two-factor authentication and security.
Environmental Footprint
Hardware tokens have a limited life span. After their obsolescence, they have to be discarded and new ones have to be issued. By contrast, mobile security tokens are a virtual product using existing hardware, thus minimizing negative externalities.
Custom Branded Security Tokens for Financial Institutions and Enterprises
Custom branding is an available option for SolidPass security tokens. This is especially useful for Banks and large corporations.
Industries and verticals that the SolidPass security token is appropriate for:
Banking/Finance
Healthcare
Public Sector
Homeland Security
Professional Services
Corporate Security
Cloud Computing Security
Solutions that SolidPass is appropriate for include:
Online Banking Security
Mobile Banking Security
E-Commerce Security
VPN Access Security
Network Access Security
Identity Management
Embedded Token
Mobile Authentication
Software-as-a-Service (SaaS)
OATH Compliant Tokens
As a member of the Initiative for Open Authentication, SolidPass™ tokens are built OATH compliant.